Press Release, 10th December 2013
Keep your cool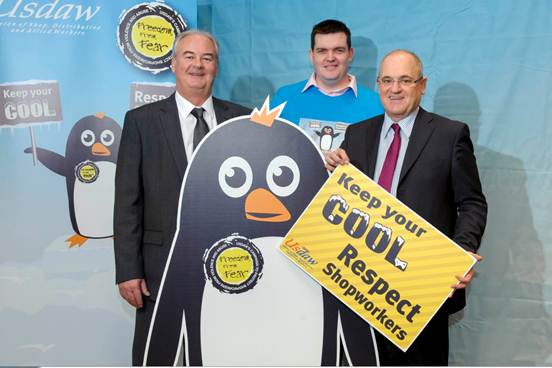 Greenock and Inverclyde MSP Duncan McNeil has joined with members of the retail union Usdaw to campaign for respect for shopworkers as part of the Freedom From Fear Campaign, which seeks to prevent violence, threats and abuse directed at retail staff. The MSP joined campaigners at the Scottish Parliament.
Duncan McNeil said:
"Too often shop workers are confronted with violence, threats and abuse and it is really important we stand together and ask people to 'keep their cool and respect shopworkers".
"I support Usdaw's call for a change in the law to provide stiffer sentences for those who assault workers"
"There is a real need to address the scourge of workers being assaulted and I am concerned that assailants are getting away with it too easily".
"I will continue to campaign with Usdaw for a change in the law to ensure that proper punishments are given out and to give a clear message that assaulting workers who are serving the public is totally unacceptable."